Setting VT Universal as your default
If you know that you always want to access VoiceThread using VT Universal, you can set it as your default site. Any time you view any VoiceThread page or link when signed in to your account, the page will open using the VT Universal version. There are two ways to change your preferences.
From the standard site:
Go to your VT Home page.
Click on your email address in the top-right corner of the page.
Select "Display Preferences" from the menu.
Under the Accessibility section, select "VoiceThread Universal" from the menu.
Click "Save".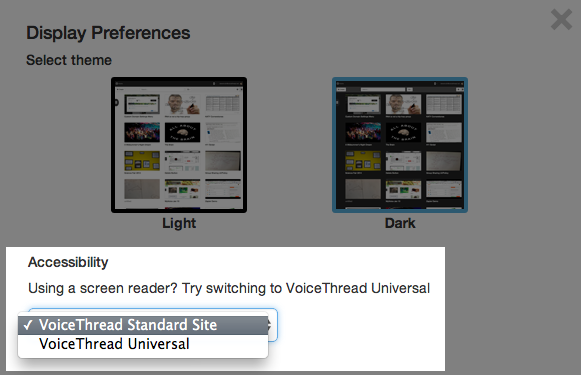 From VT Universal
Click on the button labeled "Open account and settings menu" at the top-right corner of the page. Visually this looks like an icon of a person.
Select "Use VoiceThread Universal as my default Site".
The settings will update automatically as soon as you have clicked that option.