Getting started
---
Where to find your license
Your license is delivered to the VoiceThread account you were signed into when you purchased it. If the license was purchased with a purchase order, it was delivered to the email address specified on the purchase order.
To get started, visit http://ed.voicethread.com/ and sign into the account to which your license was delivered.
---
Accessing the Manager
The Manager is where you will create and manage your students' accounts, as well as set Organizational rules that apply to all students. To access your Manager, follow the steps below.
Sign into your VoiceThread account.
Click on your email address in the top-right corner of the page.
Select "Manager" from the menu.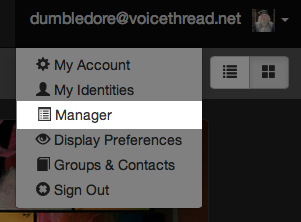 ---
Setting up your Class Organization
The first time you access your Manager, click on the green "Setup" button to the left of your new license.

You'll be prompted to select a name and custom domain (web address) for your Class Organization. Your custom domain is formatted as: http://yourclass.ed.voicethread.com.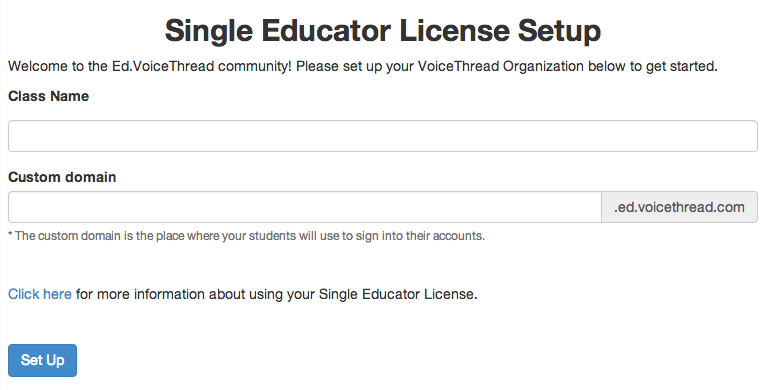 Your custom domain is a place for students to sign into their VoiceThread accounts. If you assign your students usernames instead of using valid email addresses, this domain will also be their fictitious email domain (see Adding members). It is best to make this something easy for you and your students to remember.