Accessing the Manager
The Manager is where you will create and manage users' accounts, as well as set default Organizational rules. To access your Manager, follow the steps below.
Sign into your VoiceThread account.
Click on your email address in the top-right corner of the page.
Select "Manager" from the menu.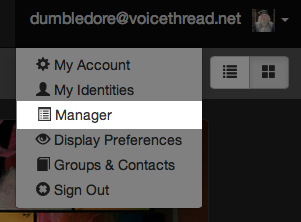 If you have a new Single Instructor License, you'll need to set up your license. The first time you access your Manager, click on the green "Setup" button to the left of your new license.

All larger licenses will be set up already, so this step is not necessary.